Important: Submitting your own meter reading does not guarantee that it will be used. The determination to use your meter reading to generate or re-issue a bill will be at the sole discretion of Central Hudson.
The earliest date you can submit your reading is two calendar days prior, but no later than noon, on your meter reading date. To find your next meter reading date, refer to the bill summary section on your billing statement, or go to your online account homepage at https://www.cenhud.com/myaccount/ and refer to the "account details" section at the bottom of the page.
Two options to enter your reading
Option 1: Email a photo
Take a photo with your smart phone or other device and email it to enteryourmeterreading@cenhud.com. Be sure both the meter ID number and usage level are clearly legible in the photo or the reading will be rejected. Hold the camera directly facing and within about one foot of the meter. Be sure the photo you send is in focus and that the numbers are not concealed by glare.
Meter reading and meter ID must be clearly legible in your photo:
| | | |
| --- | --- | --- |
| Digital Display Meter | Dial Display Meter | Gas Meter |
Option 2: Submit your reading on the form below
How to Read Your Meter
Your meter tracks cumulative electricity usage, in kilowatt hours (kWh), much like an odometer counts the number of miles driven on a car. We calculate your energy usage for a given period by calculating the difference between your previous and current meter readings.
Reminder: Be sure to note your meter's ID number when getting your reading. See the examples above to help you locate the ID number on your meter. Each meter has a unique ID number. The location of the ID number on the meter varies depending on the meter manufacturer and model type.
Digital Display Meters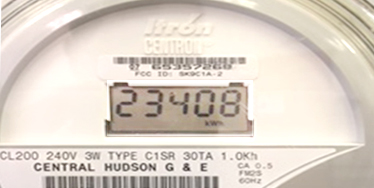 This type of meter presents your current reading on the digital display face. Simply provide the number that's displayed on the digital display for your meter reading. In the example above, your reading would be 23408.
Dial Display Meters


Starting from left to right, observe on each dial where the position of the hand falls. If the hand falls between two numbers, choose the lower number, otherwise use the number at which the hand points directly. For example, the correct reading for the above 5-dial meter is 71189.