Hudson Valley EV Tour
Welcome to Central Hudson's EV Tour of the Hudson Valley. We created this map of local attractions with nearby charging stations to demonstrate how the increasing availability of charging stations makes road trips like this feasible in an electric vehicle.
Click or tap the image below to visit the map. When you get to the map screen, you can toggle layers containing the charging stations, attractions, and local towns by clicking the side menu (on desktop) or tapping "Hudson Valley EV Tour" on the bottom of your phone's screen.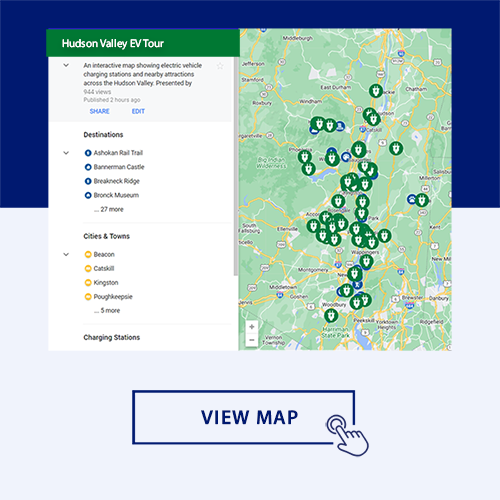 Promoting wider EV adoption
Central Hudson is proud to support the growth of EVs by encouraging the construction of the infrastructure needed to make recharging an EV just as convenient as refueling a gasoline-powered vehicle. Our Electric Vehicle Make-Ready Program offers incentives to businesses, developers and municipalities that can offset a large portion (and in some cases all) of the cost of readying a site for the installation of EV chargers. Learn more about how Central Hudson can help you reduce the cost of installing a public electric car charging station.
Interested in learning more about EVs? Visit the electric vehicle page on our website to learn more about the benefits of EV ownership and answers to common questions, including purchase incentives and a cost comparison with gasoline-powered vehicles.