H&SB Transmission Project
Central Hudson is rebuilding this electric transmission line to help meet the energy needs of local communities, address aging infrastructure and to enhance electric service reliability. The transmission line was originally constructed in 1928, and is nearing the end of its useful life. Rebuilding the line is an important investment in the electric infrastructure serving the region. Reconstruction of the line is expected to take place without any electric service interruption to customers.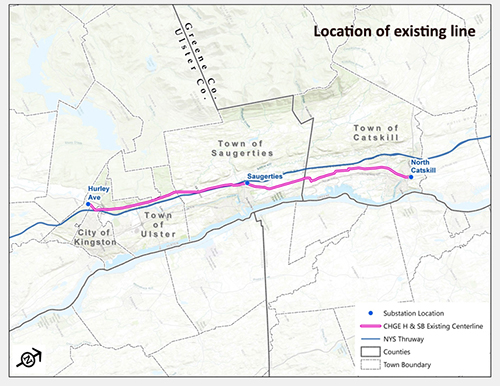 The transmission lines, named "H" and "SB", are located in a 23.6-mile corridor between Kingston in Ulster County to North Catskill in Greene County. The corridor passes through open space, wooded parcels and residential/commercial areas. Plans are to reconstruct the line within the existing right-of-way in nearly all areas, with the exception of a proposed new route for a small portion of the line within a quarry in order to avoid a large wetland. Both the lattice towers and wires will be replaced along the entire route, and some poles may be relocated within the easement, for example to span environmentally sensitive areas. The existing lattice towers will be replaced with a streamlined and slightly taller single pole design made of Corten steel, which features a characteristic brown, wood-like patina to help blend with the landscape. The rebuild design will increase the line's capability from 69,000 volts (69 kV) to 115,000 volts (115 kV), however the line will continue to operate at 69 kV until the increase in voltage is needed.
The Certificate of Environmental Compatibility and Public Need for this project was granted by the NY Public Service Commission (PSC) through the Order Adopting Joint Proposal effective Aug. 14, 2020. In addition, on Aug. 11, 2022 the PSC issed the Order Approving Environmental Management and Construction Plan Subject to Condition.
Central Hudson's Application to the PSC, inclusive of project maps and numerous exhibits and environmental studies, is available on the PSC website. For information regarding the Article VII permitting process, refer to the PSC publication "The Certification Review Process For Major Electric and Fuel Gas Transmission Facilities" here.
Recent Happenings
The "Notice To Proceed" was issued by the Department of Public Service on Aug. 29, 2022. This notice officially authorizes Central Hudson to begin construction activities within the Project scope.
Central Hudson's Environmental Management and Construction Plan (EM&CP) was approved by the PSC on Aug. 11, 2022.
Public notifications announcing the planned start of construction took place throughout August 2022.

Project Schedule Milestones
Central Hudson's application submission to the Public Service Commission: Dec. 29, 2017
Public Service Commission Issuance of Certificate of Need: Aug. 14, 2020
Public Service Commission approved Environmental Management and Construction Plan: Aug. 11, 2022
Construction Commencement (beginning at south end in Kingston): Planned for Sept. 2022

Special Notice to Landowners/Residents Along the Line
In accordance with Certificate Condition #37, Central Hudson will attempt to notify landowners and residents along the Line of planned construction commencement specifically in their area at least seven (7) days, but no more than forty five (45) days, prior to the commencement of construction. This notice only applies to persons who own or reside on properties that are crossed by or abut the Project right-of-way.

Contact Us
For inquires or complaints specifically regarding this project, you may contact us at: Project Hotline (toll-free) 844-428-7319 (Please note this should not be used for outages or emergencies) or email: H-SB-Rebuild@cenhud.com
To sign up to receive an email message when updates about this project are posted here on our website, please make such request using the email address above.