How to Charge
Plug in electric vehicles at home. If you're on the go and need to charge up the battery, find a charging station at many locations throughout the United States and Canada. Most charging networks have downloadable apps to easily find locations when you're on-the-go.
Charging Levels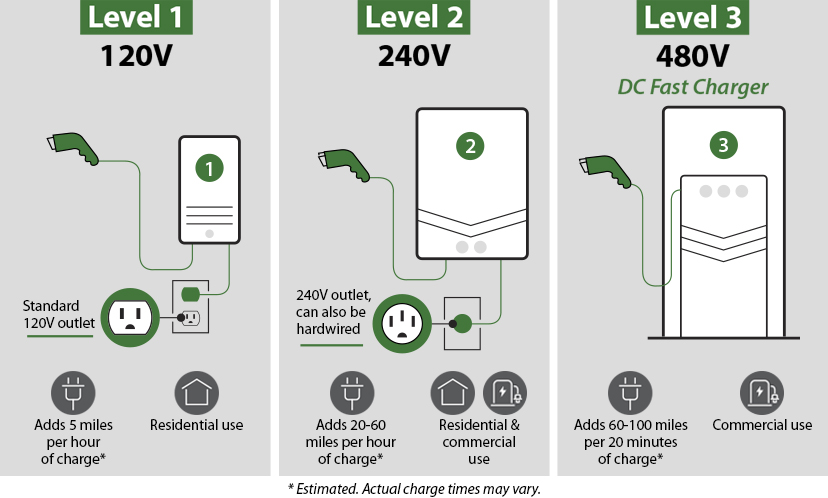 Level 1 Charging


Home charging
Requires a grounded (three-prong) standard residential 120V outlet
Suitable for low- and medium-range plug-in hybrids
Suitable for all-electric battery electric vehicle drivers with low daily driving usage
Adds 5 miles per hour

Level 2 Charging


Home and public charging
Typically requires a charging unit on a 240V outlet, like one used to power an electric clothes dryer
May require a service upgrade by a certified electrician
The 240V outlet charges in about half the time it takes to charge at a 120V outlet
Most common public chargers
Public Level 2 chargers have a standard EV connection plug that fits all current vehicles, except for Teslas, which require an adapter
Adds 20-60 miles per hour, depending on amps

Level 3 DC Fast Charging


Fastest charge currently available
Commercial use
Adds 60-100 miles per 20 minutes, depending on amps
Charging at a DCFC station is only effective if your battery state-of-charge (SOC) is below 80 percent. After that point, charging will slow down significantly
How Do I Plug In?
All home charging options (except Tesla) use a universal EV plug (SAE J1772) to connect to the car. The other end of the charging cord can either be hardwired or plugged into an existing outlet.


Level 2 public chargers also use a universal EV plug (SAE J1772)


Level 3/DCFC chargers offer one of three unique plug types: CHAdeMO (Nissan & Mitsubishi), SAE CCS (US and European auto makers), and Tesla.
Before driving to a public charging station, it is important to know:
The difference between Level 1, Level 2 and Level 3 charging stations


The type of connector compatible with your EV before planning a trip. This is especially important for DCFC stations as the plug types vary. Also, most plug-in hybrid vehicles are incompatible with Level 3 DCFC stations.


Available charging networks