Gas Projects
Improving Safety & Reliability
Central Hudson is replacing certain natural gas mains (which run along roads and streets) and service lines (which connect to individual homes, apartment buildings and businesses) that are comprised of cast iron and steel in communities throughout the Mid-Hudson Valley to ensure the safety and reliability of the natural gas system.
The majority of these lines are located in cities, villages and areas gas service was first offered in the Mid-Hudson Valley. Many of these pipelines were installed in the 1930s or earlier.
We're replacing older natural gas pipelines at an accelerated pace to enhance system reliability, safety and efficiency.
The graphic below explains this process, in general, while the column to the right provides links to town- and timeline-specific information.
Click to enlarge graphic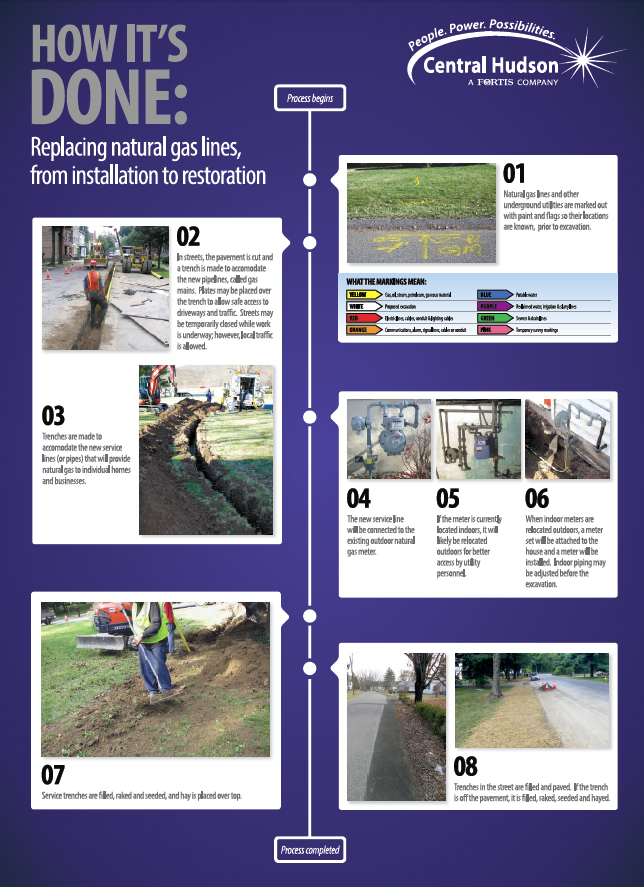 Scheduled Work
Gas main replacements are scheduled to take place in portions of the following communities:
City of Kingston (W Chestnut St., W Chester St., Montrepose Ave., Melvin Dr., Dietz Ct., Orchard St., Augusta St., W Piermont St., New St., Bond St., Levan St.)
City of Newburgh (North St., Stern Drive, Central Ave., Balmville Road, Liberty St., Leroy Place, Park Place, Elmwood Place)
City of Newburgh (South William St., Avoca St., Johnes St., Edward St.)
City of Poughkeepsie (Adriance Ave., Loockerman Ave., Barnard Ave., Rosalind Road, W Winding Road, Willow Bend, Marian Ave., Gaskin Road, Whitehouse Ave., Yates Blvd., Kimball Road, Seaman Road, Bancroft Road)
City and Town of Poughkeepsie (S. Grand Ave., Mitchell Ave., Ruppert Road, Wilbur Blvd., Hooker Ave. Service Drive, Kingston Ave./Spoor Ave. Service Drive, Spoor Ave./Cedar Ave. Service Drive, Arnold Blvd., Ziegler Ave., Case St.)
Town & Village of Cornwall (Mountain Road, Partridge Road, Maple Road, Deer Hill Road, Eagle Head Road)
Town of Newburgh (Arbor Drive, Westwood Drive, Windwood Drive, Sandalwood Drive, Clover Lane, Evans Court)
Town of Newburgh: Dalfonso Road
Town of New Windsor (Woodlawn Ave., Hickory Ave., Locust Ave., Walnut St., Cedar Ave., Clintonwood Dr.)
Central Hudson is scheduling indoor work associated with these projects at residents' homes and businesses, following the safety guidance provided by the CDC and local health officials. Please review our FAQ here:
Q: Why is it important that Central Hudson perform this work?
A: As part of statewide and Company effort to enhance natural gas safety, we have identified the main and services in your area as at the end of its useful life. To maintain the safety and reliability of natural gas service, we will be replacing where necessary the existing underground pipe serving you and your neighbors.
Q: What does this work entail?
A: If your natural gas meter is located indoors, we will make every effort to relocate it to the outdoors to eliminate entering your premise for future inspections or meter reading, as well as providing better access to emergency responders if the need arises. The piping from the new meter location to your existing piping will be installed free of charge. The installed piping will be pressure tested prior to connecting to your piping to insure a leak free installation. If your meter is already located outside it will remain so and we will tie into your existing piping.
Q: Why does Central Hudson need access to my house?
A: Central Hudson and-or our contractors must access your house to inspect and verify the operating condition of your gas piping and appliances. If our gas meter is located within your building, it must be relocated to the outdoors, and new piping must be installed from the outside meter. Once all work has been completed, we will perform a leak check and relight all of your gas appliances.
Q: Will I need to be home when Central Hudson is in my home?
A: Yes, you need to be home to grant us access to your gas appliances and, if our gas meter is located outside, to install new piping associated with moving the gas meter from inside your home or building to the outside..
Q: How long will Central Hudson need to be in my home?
A: While the extent of each job varies, this work is typically completed within a few hours. If the time is anticipated to be significantly longer, you will be notified prior to the work starting. Rest assured that we will perform the work as safely, efficiently and expeditiously as possible while limiting our work to as small an area as possible.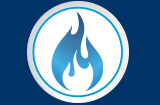 Think You Smell Gas?
Let Us Know.
LET US KNOW by calling the gas odor hotline at 800-942-8274. Or, call 9-1-1.
This 800 number can only be used to report gas leaks. For more information, click here.