Minimizing Outages
How we provide greater than 99.9% reliability
Central Hudson delivers electricity to approximately 300,000 homes and businesses across a 2,600-square-mile area in parts of eight counties. Our transmission system consists of 629 miles of line. We operate and maintain more than 7,300 miles of overhead power lines and 1,400 miles of underground lines, as well as customer service lines and meters. Statistically, a typical Central Hudson customer enjoys dependable electric service more than 99.9 percent of the time.
This level of reliability is achieved through continuous system maintenance. We refurbish or rebuild electric lines that show signs of wear, and will upgrade facilities where electric load has grown. Our routine program is taken a step further by identifying electric lines and circuits that require upgrades or even complete reconstruction to meet the growing needs of our communities. At times you may see trucks and crews working on lines in your area. Rest assured that they are performing the important task of providing us all with reliable electric service. We have also bolstered reliability in recent years with increased investments in our vegetation management program and the installation of new automation technology that can reroute the flow of electricity and, in many instances, restore power nearly instantaneously for outages that would have required a much longer restoration process in the past.
In those rare instances when power is interrupted, the problem may be traced to damage sustained by storm activity or other impacts to electric distribution facilities such as cars and trucks colliding with poles. However, with more than 60 percent of the Mid-Hudson Valley covered with trees, most power interruptions occur when storms cause trees and limbs to fall into contact with power lines.
Trees and Reliability
When electric service is interrupted during wind and lightning storms, or due to heavy rain, snow or ice, the problem can usually be traced to trees or tree limbs that fall, breaking lines or causing short circuits.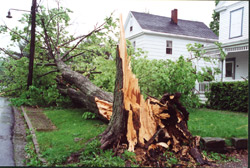 Storm-related damage to trees is the number one cause of power outages for Central Hudson customers. Interruptions are a nuisance to residents; a greater threat is posed when power is cut off to hospitals, fire and police stations, radio and television stations, newspapers, pumping stations, traffic lights and other essential public services. Some of our customers depend upon continuous, reliable supply of electrical power to operate life-support apparatus in their homes. In addition, trees that grow into contact with power lines can conduct electricity, which can create a hazard to people and property.
The best way to defend against these potential hazards is with a dedicated and thorough vegetation management and line clearance program. Central Hudson's program is carefully designed to reduce the incidents of power outages due to tree damage, while also protecting the natural and scenic beauty of the Hudson Valley. The program complies with state and federal mandates that were enacted in the wake of the 2003 Northeast blackout, which requires all utilities to conduct an effective vegetation management program that meets standards and criteria in order to reduce power interruptions caused by trees. Central Hudson and other utilities are also required to meet specific reliability targets set by the state, and our vegetation management program is an important part in meeting these targets.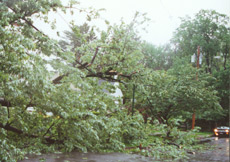 Study identifies tree damage as top culprit in outages
In order to improve electric service for our customers and as a result of these regulations, Central Hudson conducted a formal study of the causes of power outages and developed improvement measures. These include power line and substation upgrades, but records showed that falling trees and branches are the No. 1 cause of outages. A comprehensive study of Central Hudson's program was conducted, including tree re-growth rates throughout the Mid-Hudson Valley region. The study found that the tree density along Central Hudson's distribution lines is significantly higher than average nationwide, and that about 900,000 trees currently grow in proximity of these power lines.
Restoring Power Quickly
Central Hudson's goal of minimizing service interruptions is realized through ongoing programs to maintain and improve our electric distribution facilities. The use of technology, storm drills and a communications plan are also important aspects of preparing for, and responding to, emergencies:
Outage Management System Technology
Central Hudson uses its state-of-the-art computerized Outage Management System (or OMS) to quickly locate and identify the cause of a service interruption, and to facilitate restoration by service crews. This system saves time, helps us allocate resources more effectively and enables us to provide you with an estimated time when your service will be restored. With the OMS system, the greater the number of customers that call, the more accurate the system will be in pinpointing the location and cause of service interruptions. This system is also the basis of our Storm Central Outage Map, which provides customers with the most recent information about system outages and repairs, updated every 15 minutes.
With this system, repair crews can spend less time looking for the source of trouble and begin fixing the problem sooner. It also means that our Customer Service Representatives will have service restoration information available sooner, which you can access on the Storm Central Outage Map or by using calling us at (845) 452-2700, or, for calls from outside the 845 area code, 1-800-527-2714. By following the simple instructions, an automated message will give you an estimated time of restoration when that information is available.
Please be aware that during service interruptions caused by severe storms affecting a large area, restoration information may not be immediately available as OMS analyzes incoming data and our staff works to coordinate crew assignments and implement repair plans. But as soon as field crews are able to identify and prioritize the necessary repair work, electric service restoration information will be made available to you.
Storm Drills
We regularly conduct storm drills, which mimic crisis conditions, to better prepare our repair workers and support personnel for actual emergencies. Communications with emergency and municipal officials are also reviewed so that we're assured of having the proper contacts in the event of an actual storm.