Fall Foliage Photo Contest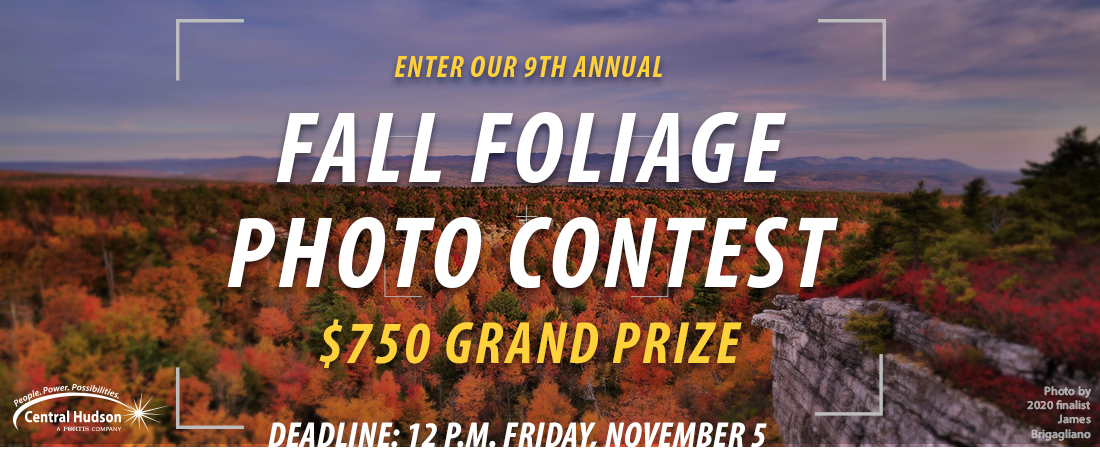 Schedule
Oct. 4: Launch of 9th annual Fall Foliage Photo Contest
Nov. 5: Deadline to enter and submit photos (noon)
Nov. 9: Finalist photos posted to Facebook
Nov. 19: Voting ends at 12 noon, winner announced shortly after
Official Rules
Eligibility
This promotion is open to customers of Central Hudson Gas & Electric only. Eligible participants must occupy a residence that receives a Central Hudson bill.
Employees of Central Hudson and members of their immediate families or households are not eligible to participate in this promotion.
How to Enter
Enter by submitting an unpublished, scenic photograph you personally took this fall (2021) that displays the beauty of the season at any spot within Central Hudson's service territory here in the mid-Hudson Valley.
To enter your photo, email it to communications@cenhud.com no later than noon on Nov. 5, 2021. The contest is limited to one submission per entrant.
Please include the following information with your entry email:
Subject line: Fall Foliage Photo Contest
Your name
Your mailing address
The name of the Central Hudson account holder at that address
Your phone number
Your email address
A brief caption describing where the photograph was taken and when
How you heard about the contest
Prize
$750 and a framed print of the winning photo
Winner Selection Methodology and Winner Notification
Finalist photos will be uploaded to Facebook on Nov. 9 after a group of Central Hudson employees select a to-be-determined number of finalists from the entries received. Those finalist photos will then be posted to Central Hudson's Facebook page (www.facebook.com/centralhudson) where voting will be open to all Facebook users who are capable of "liking" a photo posted on our page. The voting period will begin when Central Hudson posts the finalists to its Facebook page and ends at 12 p.m. (noon) EST on Nov. 19, 2021. Shortly thereafter, the finalist photo that has received the greatest number of "likes" from different people prior to the 12 p.m. cutoff will be declared the winner.
Fall Foliage Voter Giveaway
When the winning photo in the Fall Foliage Photo Contest is determined, an additional random drawing will be held to award a framed photo of the winning photo, drawn from among those Facebook users who "liked" that photo. The winner will be contacted via Facebook that afternoon and arrangements will be made to provide the winner with the prize. This promotion is open to any user who has followed or liked the Central Hudson Facebook Page and has registered a "like" on the winning photograph by noon of November 19, 2021. Winners need not be customers of Central Hudson or residents of households with a Central Hudson account. Employees of Central Hudson or their family members are not eligible.
All other terms and conditions of the photo contest apply.
Only those likes registered directly on the designated photos on our Facebook page will be counted.
Likes on posts promoting the contest or on posts separate from the designated contest finalists will not be counted. Likes deemed by Central Hudson employees monitoring the process to have been made after the cutoff time will not be counted.
Central Hudson's decision when declaring a winner is final.
Entrants may solicit support for their photographs through their own personal Facebook accounts.
The winner will be contacted at the email address from which they submitted the photo and/or by the telephone number provided.
Odds of Winning
Odds of winning will depend on the total number of eligible submissions received in the manner stated above by the submission deadline.
Photo Copyright
By entering, entrants grant Central Hudson the full right to use their submitted photographs without further consent. By submitting a photograph, the entrant verifies that they are the photographer of and owner of the rights to publish the photograph. Central Hudson is not responsible for any copyright infringements perpetrated by entrants. If Central Hudson suspects a copyright infringement or any type of fraud regarding an entry or in the voting process, at its discretion, Central Hudson may remove that entry from consideration at any time.
Tax Responsibilities
The winner is solely responsible for any/all taxes on or connected with any prize. All income taxes (including, without limitation, federal, state, and/or local income taxes) on or connected with any prize, and the reporting consequences thereof, are solely the responsibility of respective winners.
General Terms
This contest is in no way sponsored, endorsed, administered by or associated with Facebook.
By entering, entrants agree to release and hold Facebook, Central Hudson and Central Hudson's parent company, harmless from and against any and all claims and liability arising out of participation in the promotion or use of prize. Entrants assume all liability for any injury or damage caused, or claimed to be caused, by participation in this promotion or use or redemption of any prize. Acceptance of prize constitutes permission for Central Hudson and its parent company to use winner's photograph, name, and likeness for purposes of advertising and trade without further compensation, unless prohibited by law.
By participating in this promotion, entrants agree to be bound by Central Hudson's Official Rules and decisions, which are final and binding in all respects. Central Hudson is not responsible for any typographical or other error in the printing of the offer, administration of the promotion or in the announcement of any prize. In no event will more than the stated number of prizes be awarded.
Central Hudson is not responsible for incomplete or improper enrollment; non-delivered or misdirected entries; technical problems, malfunctions of any computer systems, servers, providers, hardware or software; lost or unavailable network connections; incorrect or inaccurate capture of entry information or loss of entry information; failed, incomplete, garbled or delayed computer transmissions, or any other human or technical errors of any kind; or any combination of any of the foregoing.
Central Hudson assumes no responsibility for undeliverable e-mails resulting from any form of active or passive e-mail filtering. Central Hudson is not responsible for any liability for damage to any computer system resulting from participation in or accessing or downloading information in connection with this promotion. Central Hudson reserves the right at its sole discretion to disqualify any individual who tampers with the entry process. Central Hudson reserves the right, in its sole discretion, to cancel, modify or suspend this promotion should a virus, bugs, entrant fraud or misconduct, or other causes beyond the control of Central Hudson, in Central Hudson's determination, corrupt the administration, integrity, security or proper operation of the promotion. In the event of termination of the promotion, a notice will be posted online and a random drawing to award the prize will be conducted from among all eligible entries received prior to the time of termination. Entry times will be determined using Central Hudson's computer, which will be the official clock for the contest.
---
Looking for inspiration?
Check out our top five fall foliage tips, with examples from past finalists!