Jan 15, 2021
Central Hudson Honored by Edison Electric Institute for Tropical Storm Isaias Response
Central Hudson Gas & Electric Corp. received the Edison Electric Institute's (EEI) Emergency Response Award for its outstanding storm recovery performance following Tropical Storm Isaias. Central Hudson was chosen by a panel of judges following an international nomination process, and the awards were presented during EEI's virtual Winter Board and Chief Executives Meeting on January 14. This is the sixth Emergency Response Award received by Central Hudson.
"Over the past year, many of our nation's electric companies and their customers have endured historic storms and wildfires and other significant weather-related events," said EEI President Tom Kuhn. "I congratulate and applaud Central Hudson for demonstrating continued commitment to the customers and to the communities it serves. In the midst of a global pandemic and often in the most hazardous of conditions, Central Hudson and its frontline employees worked around-the-clock to restore service safely and quickly."
"Tropical Storm Isaias was one of the most damaging storms in Central Hudson's history. Our dedicated staff, with the help of mutual aid crews from various parts of the United States and Canada, engaged in a restoration effort that was unprecedented for an event of this magnitude," said Charles A. Freni, President and CEO of Central Hudson. "Central Hudson takes service restoration efforts very seriously, so this recognition by our professional colleagues at EEI for our outstanding efforts truly is an honor."
Tropical Storm Isaias brought damaging winds gusts of over 60 mph and 5-6 inches of rain to the Mid-Hudson Valley region on Tuesday, August 4, 2020. The storm toppled trees and limbs, causing service interruptions to nearly 117,000 homes and businesses within Central Hudson's service territory and more than 3.7 million customers in the northeast. The winds and rain from Isaias damaged the utility's electric system at nearly 1,600 locations, in addition to causing 2,500 cases of downed power lines and more than 140 broken poles.
A total of 728 line and tree professionals that included Central Hudson crews, local contractors, mutual aid from Georgia, Illinois, Indiana, New York and Canada and with the help of hundreds of employees in support roles, worked safely and efficiently, restoring service to more than 50 percent of impacted customers within the first day; 75 percent within the second day; and 98 percent within the third day. Once Central Hudson's restoration was complete, crews were released to assist other utilities within New York with their repairs.
Central Hudson previously received the EEI Emergency Response Award in 2018 for its efforts in restoring power following damaging twin nor'easters Riley and Quinn; in 2015 in response to a 2014 Thanksgiving nor'easter; in 2013 in recognition of its recovery efforts during Hurricane Sandy in 2012; in 2012 for recovery efforts following a severe snow storm in October 2011; and in 2011 for restoration efforts following a major snow storm in February 2010, the most severe in the utility's history.
# # #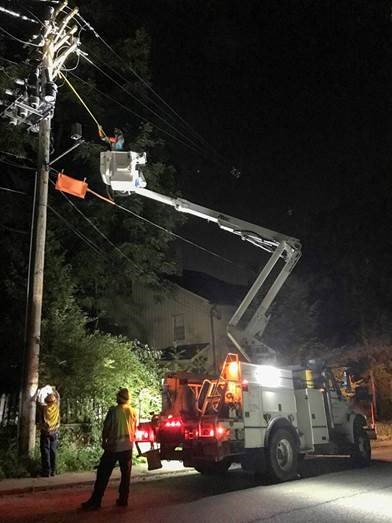 Central Hudson Crews work into the night at a damage location in Cold Spring following Tropical Storm Isaias.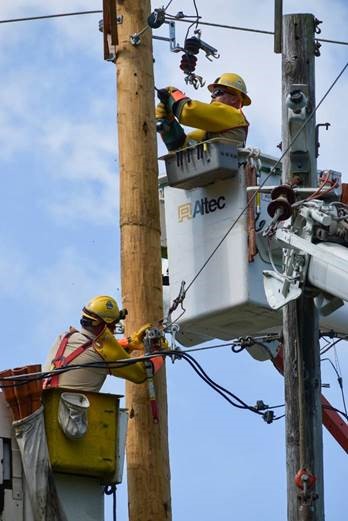 Central Hudson workers address pole damage in Hopewell Junction in Dutchess County after Tropical Storm Isaias caused widespread damages.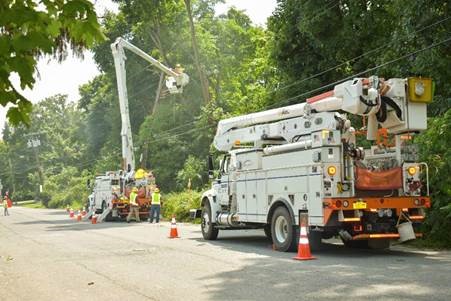 Central Hudson workers work to replace damaged poles in the Newburgh following Tropical Storm Isaias. More than 140 poles were broken during the storm.