Jul 7, 2021
Central Hudson Crews Restore Power to More Than 75 Percent of Impacted Customers
Central Hudson Gas & Electric Corp. repair crews have restored power to more than 75 percent of homes and businesses impacted by the powerful thunderstorms that moved through the Mid-Hudson Valley, interrupting service to approximately 30,000 customers. As of 5 p.m., nearly 23,500 customers have been restored, with the vast majority of remaining outages located in central Dutchess County.
"Our crews have made significant progress throughout the day, but we know there is still much work to be done," said Ryan Hawthorne, Vice President of Electric Engineering and Operations. "Additional isolated, but still powerful storms moved through Greene and Albany counties this afternoon and have created more than 2,000 additional outages, but our full complement of field professionals, including contractors and employees in support roles, will continue working until the last customer is restored.
"As we continue our restoration efforts, each repair will restore service to fewer and fewer customers, even single households, and may take just as long to complete as previous restorations that returned service to more homes and businesses," Hawthorne added.
Central Hudson has restored service to 95 percent of customers in Orange, and Ulster counties following yesterday's storms and expects to have 95 percent of Dutchess County restored by 10 p.m. on Wednesday with full restoration completed by Thursday afternoon. Estimated times of restoration for Greene and Albany County will be updated on Central Hudson's Outage Map as they become available following damage assessment being performed this afternoon. Current forecasts show the potential for thunderstorms on Wednesday night that could bring about additional outages.
Residents are also advised to exercise an abundance of caution around downed power lines by staying at least 30 feet away, and remember that downed lines can become entangled and hidden in fallen limbs. Residents should also remember to assume any downed power lines are live.
Hawthorne reminded residents to keep safety in mind, particularly during power interruptions:
Never use outdoor gas or charcoal grills indoors, as they pose a fire hazard and over time can give off carbon monoxide gas;
Beware of fallen trees and limbs, and use caution when traveling;
Avoid the use of candles for illumination due to fire hazards;
Follow the manufacturer's safety instructions on the use of emergency generators, and be sure to shut off the main breaker when in use and operate the units outdoors;
Operate cars and motor vehicles outdoors only, and never inside the garage; and
Avoid travel along roadways as hazardous conditions may cause driving accidents, including those involving utility poles which may cause power interruptions.
Visit hudsonvalleyweather.com for the latest forecast information.
Customers can stay informed of storm and restoration conditions in the following ways:
By text messaging: Customers should enroll in Central Hudson's Texting Program to use text messaging to report their power condition and to obtain repair status. To enroll, visit CentralHudson.com/Alerts or text REG to 236483;
On the Web: Visit CentralHudson.com/Storms to report outages and obtain restoration updates;
Via smart phones: A mobile version of the Central Hudson's website can be accessed by web-enabled cell phones and mobile devices at https://mobile.CenHud.com. Updated free Central Hudson mobile applications are available for Android and Apple devices by logging onto www.cenhud.com/mobileapp;
Through social media: "Like" Central Hudson on Facebook (Facebook.com/CentralHudson) and "Follow" on Twitter (Twitter.com/CentralHudson); and
By phone: Call the Central Hudson PowerLine at (845) 452-2700 or 1-800-527-2714, and please use the automated system to report or monitor your power condition.
If a member of your household needs electricity to operate life sustaining equipment, please contact customer service at (845) 452-2700.
More information on preparing for storms and emergencies and communicating with Central Hudson is available at www.CentralHudson.com; for information regarding electric and natural gas safety, visit www.CentralHudson.com/Safety.
# # #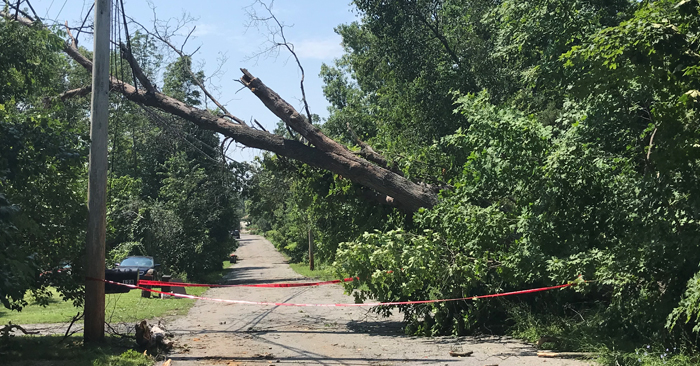 Tree damage on Wednesday on Old Quaker Lane in Hyde Park.