Mar 2, 2020
Central Hudson Recognizes Engineers' Contributions
Behind every power line, natural gas main, bridge, tunnel, road, vehicle and building is an engineer whose scientific knowledge and creativity led to its successful design and construction.
Central Hudson Gas & Electric Corp. celebrates engineers' achievements and positive contributions to our quality of life during national Engineers Week, held each February. The National Society of Professional Engineers launched Engineering Week in 1951 to highlight engineer's contributions, increase public dialogue about the need for engineers and bring engineering to life for students, educators and parents.
"The technologies, devices and infrastructure we utilize every day were designed and developed by engineers," said Charles A. Freni, President and CEO of Central Hudson. "The profession is changing, so we must equip future generations with the tools and resources to overcome the challenges of tomorrow."
Central Hudson supported Engineers Week by sponsoring and attending the local E-Week program presented by Mid-Hudson Technical Societies, this year held in New Windsor on Feb. 25. More than 20 Central Hudson employees attended to discuss how science, technology and engineering will play a dominant role in the transition to the clean energy systems of the future.
To provide guidance to students interested in a career in engineering, Central Hudson employees also serve as mentors to Poughkeepsie High School students participating in the E-TECH academy (Engineering, Technology, Early College High School). The initiative is a partnership between the Central Hudson, the Poughkeepsie City School District and Dutchess Community College, and provides participating students with an integrated sequence of high school and college course work, mentorship by engineering professionals, workplace experience and potential internships, culminating in both a high school diploma and a college associate degree in the field of engineering.
Central Hudson also offers an internship program for college students, with opportunities in engineering as well as other fields. "Our internship program provides students with real-world experience that enables them to apply what they've learned in the classroom," Freni said. "Along with E-TECH, the internship program gives students an understanding of how engineers shape our world and encourages them to pursue a career in engineering, science, technology or math."
For more on engineering for students, visit www.discovere.org; and for more on Central Hudson's internship program, visit www.CentralHudson.com/about-us/employment/internship-program.
###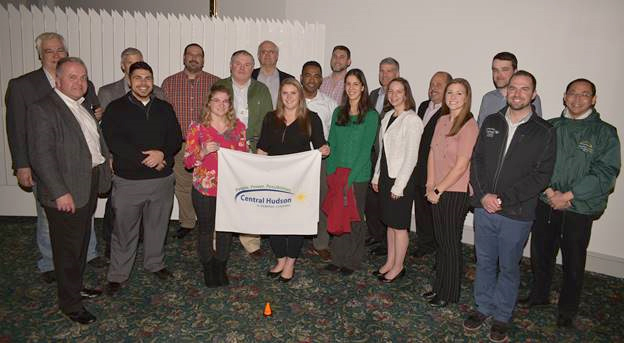 Central Hudson engineers supported Engineers Week by sponsoring and participating with the local E-Week program presented by Mid-Hudson Technical Societies, this year held in New Windsor on Feb. 25.