Oct 8, 2020
Central Hudson Crews Restore Power to 86 percent of Impacted Customers
Central Hudson Gas & Electric repair crews continue to make progress in restoring power to customers who were impacted by damaging wind and storms on Wednesday evening. The storms interrupted service to more than 26,000 customers. As of 3:00 p.m., service has been restored to nearly 22,900 customers, and approximately 3,540 remain without power, the majority located in Greene, Ulster and Albany Counties. Central Hudson expects power to be restored to 95 percent of impacted customers in these areas by the following dates and times:
Albany County: 11:00 p.m., Thursday, October 8;
Greene County: 9:00 a.m., Friday, October 9;
Ulster County: 10:00 a.m., Friday, October 9
"The powerful storms that came to our area last night brought down trees and limbs, and caused significant damage in the northern portions of our service area," Charles A. Freni, President and CEO of Central Hudson said. "Our compliment of more than 375 line and tree workers will continue working safely and efficiently to restore electric service to every customer. We also want to thank our first responders as well as state, county and local officials who have helped us during this recovery effort."
Freni advised customers who are without power to avoid opening freezers and refrigerators. A closed refrigerator can keep food cold for up to 24 hours, and a closed freezer can keep food frozen for up to 48 hours. Perishable items can also be stored in coolers with ice. Due to a national shortage of dry ice, Central Hudson is unable to secure these supplies before restoration efforts will be completed.
Customers are reminded to keep safety in mind, particularly during power interruptions:
Stay at least 30 feet away from downed power lines and remember that lines may be entangled and hidden in fallen trees. Assume all downed lines are live;
Never use outdoor gas or charcoal grills indoors, as they pose a fire hazard and over time can give off carbon monoxide gas;
Beware of fallen trees and limbs, and use caution or traveling;
Avoid the use of candles for illumination due to fire hazards;
Follow the manufacturer's safety instructions on the use of emergency generators, and be sure to shut off the main breaker when in use and operate the units outdoors;
Operate cars and motor vehicles outdoors only, and never inside the garage; and
Avoid travel along roadways as hazardous conditions may cause driving accidents, including those involving utility poles which may cause power interruptions.
Customers can stay informed of storm and restoration conditions in the following ways:
By text messaging: Customers should enroll in Central Hudson's Texting Program to use text messaging to report their power condition and to obtain repair status. To enroll, visit CentralHudson.com/Alerts or text REG to 236483;
On the Web: Visit CentralHudson.com/Storms to report outages and obtain restoration updates;
Via smart phones: A mobile version of the Central Hudson's website can be accessed by web-enabled cell phones and mobile devices at https://mobile.CenHud.com. Free Central Hudson mobile applications for Android and Apple and are also available by logging onto com/mobileapp;
Through social media: "Like" Central Hudson on Facebook (Facebook.com/CentralHudson) and "Follow" on Twitter (www.Twitter.com/CentralHudson); and
By phone: Call the Central Hudson PowerLine at (845) 452-2700 or 1-800-527-2714, and please use the automated system to report or monitor your power condition.
More information on preparing for storms and emergencies and communicating with Central Hudson is available at www.CentralHudson.com; for information regarding electric and natural gas safety, visit www.CentralHudson.com/Safety.
# # #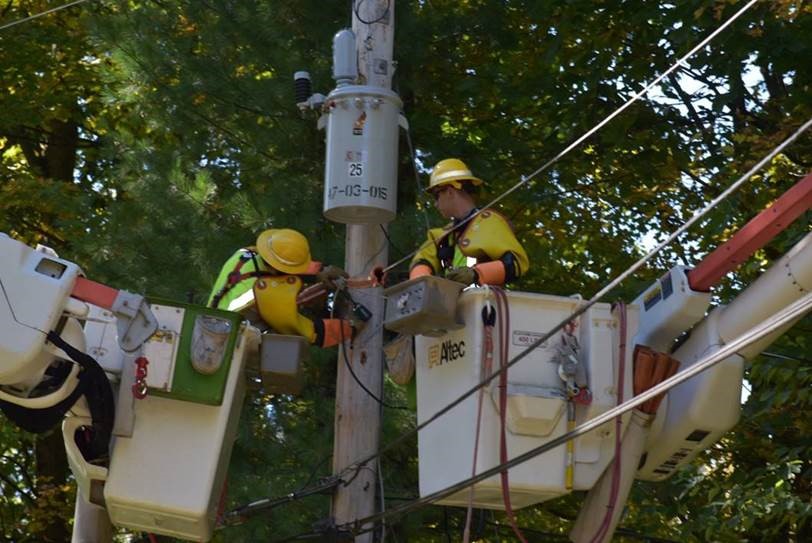 A Central Hudson crew repairs a broken pole, damaged transformer and downed power lines on Laura Lane in Woodstock.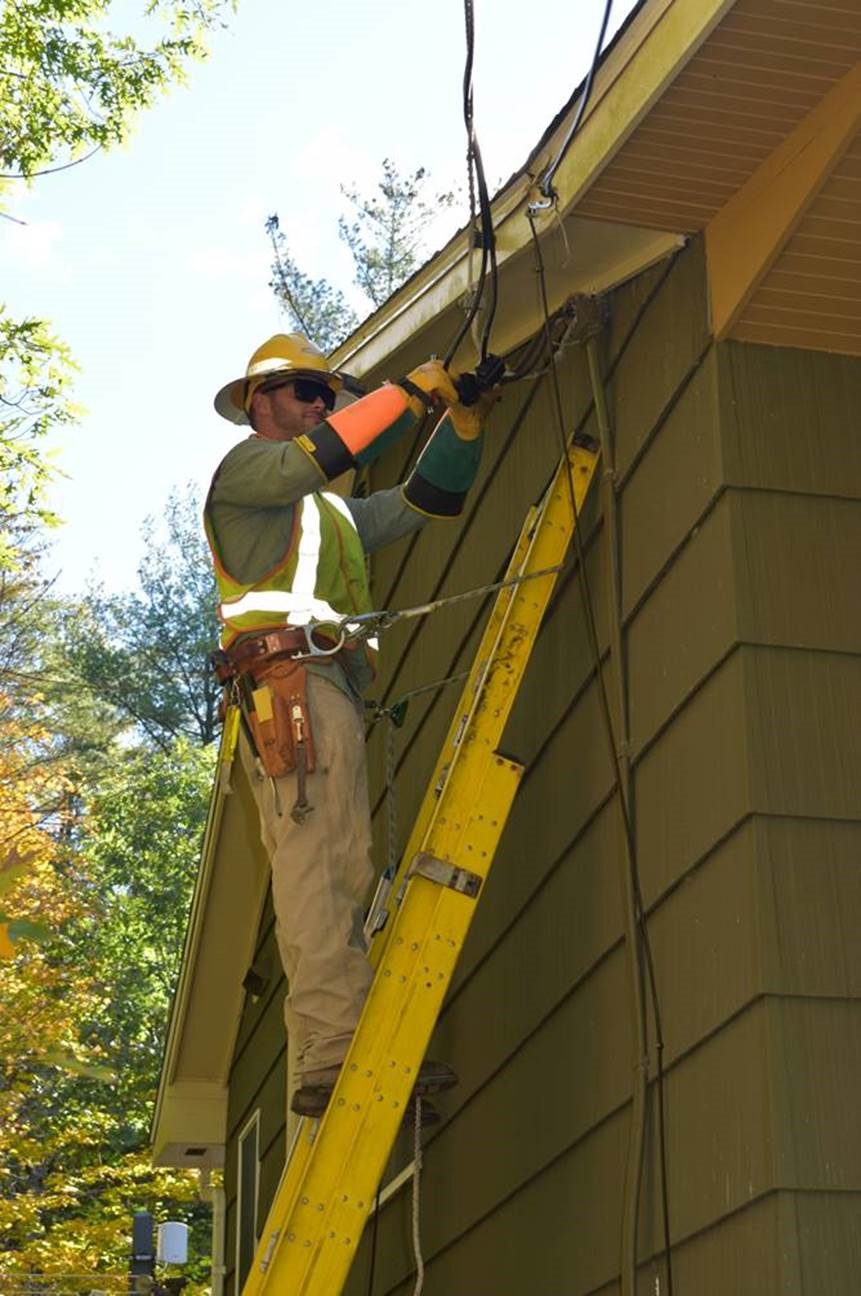 A Central Hudson Lineman repairs an electric service wire outside a residence on Van Vlierden Road in Saugerties.