Shop In Area Retailers
Brighten Up with LEDs
Shop the lighting sections of most local Lowe's, The Home Depot, Walmart, Sam's Club, Target, Ace/True Value Hardware, Dollar Tree and Dollar General stores. Enjoy reduced pricing on top brand name LED lighting products courtesy of Central Hudson. Look for Central Hudson signage: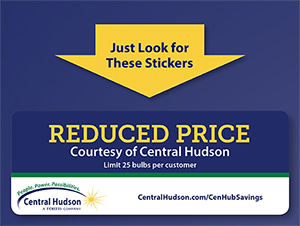 Smarter Savings with Smart Thermostats
Central Hudson customers receive $50 off of ENERGY STAR® certified smart thermostats when shopping at The Home Depot and Lowe's. Claim your rebate by visiting CentralHudsonRebates.com.
Pump Up the Savings with Electric Heat Pump Water Heaters
Upgrade to an ENERGY STAR certified heat pump water heater to save money and energy. Receive a $1,000 mail-in rebate by visiting CentralHudsonRebates.com.
Watch the Saving Flow with Water Fixtures
Switching to a newer, more efficient water saving product will save the average family up to 2,900 gallons of water a year by replacing one showerhead, according to the EPA. Shop name brand water fixtures at Home Depot and gain access to reduced pricing courtesy of Central Hudson.
Splash into Savings with Variable Speed Pool Pumps
Your pool pump could cost up to $560 in energy every year. Variable speed pool pumps that have earned the ENERGY STAR are independently certified to:
Save you up to $2,800 over their lifetime.
Pay for themselves in less than two years.
Run quieter and prolong the life of your pool's filtering system.
Provide better filtration for improved water clarity.
Are significantly more energy efficient than single speed pumps.
Inquire at SwimKing Pools & Spas and Galati Pools & Spas about available incentives when you purchase a variable speed ENERGY STAR pool pump.
Central Hudson is powering the path to a cleaner future with our energy efficient rebates and incentive programs.