Residential Lighting
Choose Between Two Great Options



Whether you prefer to shop online or in-store, shop with Central Hudson and save.

Option One: Shop the CenHub Store for LED light bulbs, advanced power strips, smart thermostats, water saving products, and more. Special discounts and rebates for Central Hudson customers.

Option Two: Shop in-store in the lighting sections of most of your local Home Depot, Lowe's, Walmart, Sam's Club, Target, Hannaford, BJs, Dollar Tree, Dollar General and Ace/True Value Hardware stores and look for Central Hudson signage.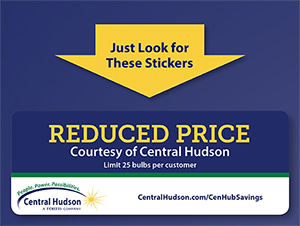 Reduced pricing and rebates, courtesy of Central Hudson.
Switching to LED bulbs is an easy way to lower your energy use and save money. Plus, you'll get instant rebates when you purchase bulbs discounted by Central Hudson! LEDs can last 15 times longer than incandescent bulbs and use up to 90% less energy. That means you can save up to $80 on energy costs over each bulb's lifetime.*

Get Central Hudson discounts on select energy-efficient bulbs right at the register.**


» Estimate your savings with our LED calculator

» Download our LED Buyer's Guide
* Source: energystar.gov
** Limit 25 bulbs per customer. Residential customers only.