Dec 30, 2021
Fishkill Resident Wins Second Annual Holiday Spirit Photo Contest
The votes are in, and the winner of Central Hudson Gas & Electric Corporation's second annual Holiday Spirit Photo Contest is Dawn Fortis of Fishkill, Dutchess County.
Fortis, who submitted a photograph taken outside of her home adorned with Christmas lights, will be awarded $500. Of the five finalists, Fortis's photograph received 856 votes, the most cast by Central Hudson's Instagram followers. In total, nearly 1,500 votes were cast.
"Congratulations Dawn for beautifully capturing the spirit of the holidays and the joy this time of years brings to our local communities," said Charles A. Freni, President and CEO of Central Hudson. "We are impressed by the creativity demonstrated by all of the entrants and appreciate our Instagram followers for casting their votes."
Fortis is the president of Brielle Grace Breast Cancer Foundation. Her Fishkill home is decorated with more than 50,000 lights synchronized to more than 30 programmed songs to bring about breast cancer awareness . Neighbors can enjoy these holiday songs from their cars by tuning into 89.9 FM.
"We come from a family of breast cancer survivors and first responders," Fortis wrote in an email to Central Hudson. "Our goal is to one day see a world without cancer."
The contest opened on Dec. 8, 2021, inviting Central Hudson customers to submit photographs of their holiday decorations taken within the energy company's service area by Dec. 17. Entrants were asked to submit photographs of decorations inside or outside of their homes. All holidays celebrated from November through the end of December were welcomed, including religious holidays, Thanksgiving and New Year's. A selection of finalists was posted to Central Hudson's Instagram page on Dec. 20, and voters were asked to "like" their favorite of the finalists. The official voting ended at noon on Dec. 30.
Freni reminded customers of the benefits of "following" Central Hudson on Facebook, Twitter and Instagram to receive important safety messages, energy efficiency tips, announcements on new programs and services, updates on severe weather and other helpful information.
Contest rules are posted at Holiday Spirit Photo Contest (cenhud.com). To view the images of all the finalists, go to Central Hudson's Instagram page (@Central_Hudson) at https://www.instagram.com/central_hudson/ or click here.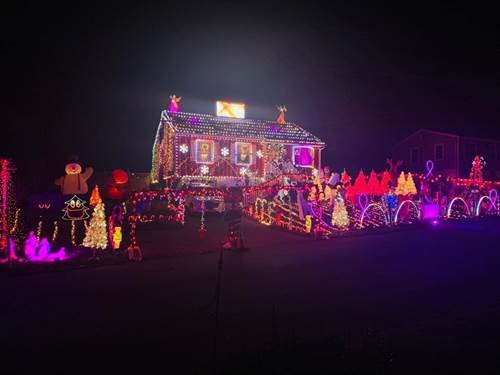 Dawn Fortis of Fishkill, Dutchess County is the $500 winner of Central Hudson's second annual Holiday Spirit Photo Contest.