Refrigerator & Freezer Recycling

Say goodbye to your old refrigerator or freezer and take advantage of our incentive -- We pay you $50 per unit (up to two), pick it up for free and properly recycle it!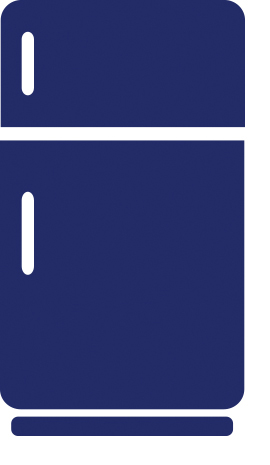 Why does Central Hudson offer this recycling program? We support our customers in saving energy and we care about the environment! If you are looking to remodel your kitchen, or if your older model just isn't working as it should, our $50 offer gives customers more reason to upgrade to a newer more efficient model. Refrigerators with the ENERGY STAR label save on average $80 per year in energy costs.
Also, consider getting rid of the spare plugged-in refrigerator/freezer you have in your basement, for an additional $50 and average $80 in annual energy savings.
Central Hudson responsibly recycles all appliances we pick up.


How to Participate
Central Hudson offers two ways to take advantage of this service:
Shop for a new refrigerator at The Home Depot and schedule a pick-up at the time of purchase. OR:
Click here to confirm eligibility and schedule a pick-up, or call 866-706-3995.
The $50 reward will be mailed to you within 4 weeks after pickup of your refrigerator or freezer.
To calculate savings based on the model you are replacing, use the ENERGY STAR Flip Your Fridge Calculator.
Requirements:

You must be a Central Hudson residential electric customer.
You must own the refrigerator or freezer, and it must be 10-30 cubic feet.
Appliance must be in working (cooling) order.
Appliance must be plugged in the night prior to pickup.
Your appliance will be picked up, at no charge, from the address listed on your billing account.
Limit of two appliances per household.

Inside Your Refrigerator
With Central Hudson's Appliance Recycling Program, over 95 percent of the appliance is properly destroyed and recycled, preventing it from entering a landfill.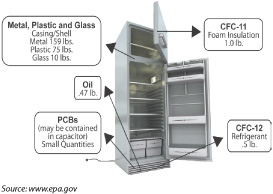 * A/C units can only be added to a scheduled refrigerator or freezer pick-up and will not result in an additional rebate amount.

**Actual energy and cost savings will vary by equipment model and region. These estimates are conservative and based on national averages (www.energystar.gov).
Program procedures, requirements and rebate levels are subject to change or cancellation without notice. One rebate check will be issued to the customer for each approved and completed application.