Refrigerator & Freezer Recycling

Say goodbye to your old refrigerator or freezer and take advantage of our incentive -- We pay you $100 per unit (up to two), pick it up for free and properly recycle it!

RECYCLE. SAVE. GET PAID.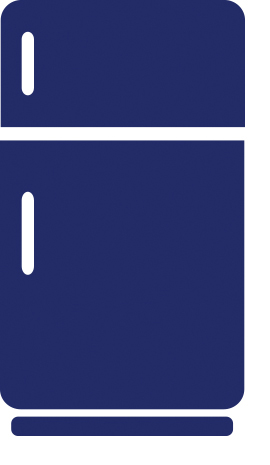 Central Hudson can help lower your monthly energy bills -- and pay you to do it! We'll give you $150 to recycle your old, working refrigerator or freezer. We'll even pick it up, free of charge, and properly recycle it.

While that old appliance in the basement or garage may provide more storage, it's not worth the additional cost on your electric bill. By recycling your old appliance, you can also save up to $80 a year on your energy bill. This calculator from ENERGY STAR can help determine how much your old refrigerator or freezer costs to operate.
How to Participate
Central Hudson offers two ways to take advantage of this service:
Shop for a new refrigerator at The Home Depot and schedule a pick-up at the time of purchase.
Click here to confirm eligibility and schedule a pick-up, or call 866-706-3995.
The $100 reward will be mailed to you within 4 weeks after pickup of your refrigerator or freezer.
Requirements:

You must be a Central Hudson residential electric customer.
You must own the refrigerator or freezer, and it must be 10-30 cubic feet.
Appliance must be in working (cooling) order.
Appliance must be plugged in the night prior to pickup.
Your appliance will be picked up, at no charge, from the address listed on your billing account.
Limit of two appliances per household.

Inside Your Refrigerator
With Central Hudson's Appliance Recycling Program, over 95 percent of the appliance is properly destroyed and recycled, preventing it from entering a landfill.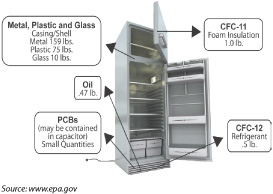 Save Energy and Money
Each old refrigerator or freezer requires an average of 700 to 1,600 kilowatt-hours (kwh) to operate annually.
If a spare refrigerator used in a basement or garage is removed and not replaced, energy savings can amount to 1,200 kWh/year, with an average $80 reduction in annual electricity charges.**
Program procedures, requirements and rebate levels are subject to change or cancellation without notice. One rebate check will be issued to the customer for each approved and completed application.

* A/C units can only be added to a scheduled refrigerator or freezer pick-up and will not result in an additional rebate amount.

**Actual energy and cost savings will vary by equipment model and region. These estimates are conservative and based on national averages (www.energystar.gov).