Powering the Path to a Cleaner Future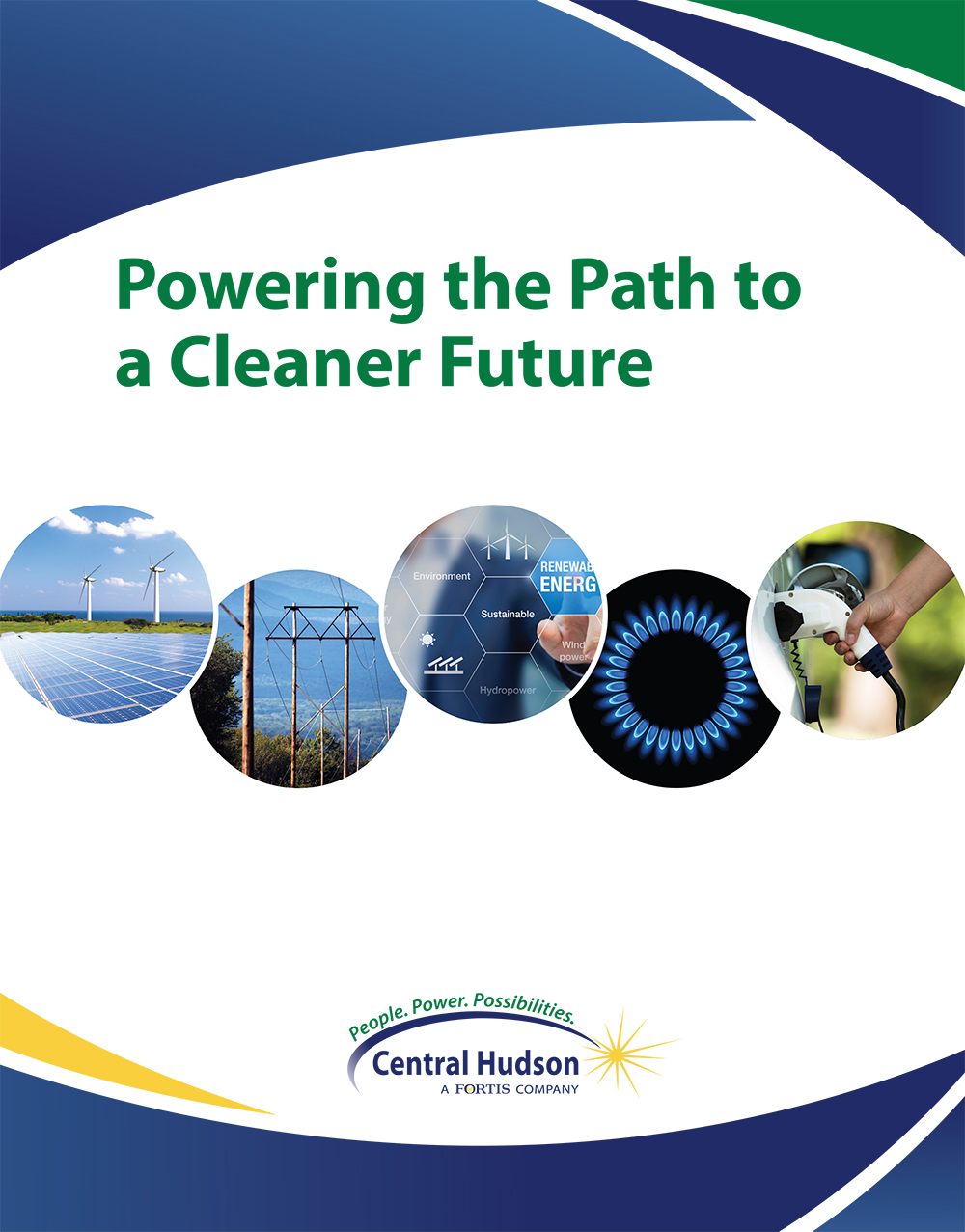 To read or download the full report, click here.

Click for links to additional reference material on New York state policy.

Click here to learn about our residential and commercial rebates on carbon emission reducing products.
New York state has set forth some of the boldest clean energy policies in the nation with the goal of reducing carbon emissions and addressing climate change.

Central Hudson is committed to making investments in infrastructure and technology that cost effectively reduce carbon emissions while continuing to provide reliable, resilient and affordable power by:
1. Upgrading electric transmission and distribution lines
As energy resources become more distributed, the transmission and distribution grid, which enables this transformation, becomes increasingly important and more complex to operate. Upgrading transmission and distribution line capacity and deploying new technologies will enable wide-spread electrification of New York's economy, especially as most of the state's emissions-free generation is located in upstate regions.
2. Pursuing the lowest cost approach to emission reduction
Central Hudson believes that energy affordability must be a main tenet of clean energy policy. New York utility customers are financially supporting the state's energy goals. Currently the state has committed $22.7 billion toward meeting these goals through 2025. In 2018, Central Hudson customers contributed $54.8M or 12.5 percent of the average residential bill to support New York state's clean energy initiatives. Providing the proper mix of resources at the least cost to consumers requires that policymakers consider how capable — or incapable — intermittent resources are to reliably supply power demands, as not all renewable generating assets are the same.

New York State Clean Energy Initiatives
Costs to Electric Customers 2006-2025
| Program | State | Central Hudson |
| --- | --- | --- |
| Zero Emissions Credits | $5,013,087,000 | $92,759,000 |
| Renewable Energy Credits | $1,362,882,000 | $25,476,000 |
| System Benefits Charge* | $1,220,718,000 | $48,984,000 |
| Renewable Portfolio Standard* | $1,540,669,000 | $79,622,000 |
| Energy Efficiency Portfolio* | $1,979,636,000 | $102,813,000 |
| Clean Energy Fund | $3,404,506,000 | $185,486,000 |
| NY-Sun | $943,773,000 | $51,419,000 |
| NY Green Bank | $742,190,000 | $40,436,000 |
| Utility Energy Efficiency | $3,904,963,000 | $124,525,000 |
| Net Metering | $1,038,592,000 | $101,500,000 |
| Community Distributed Generation | $410,858,000 | $56,892,000 |
| Heat Pumps | $454,318,000 | $43,221,000 |
| Community Distributed Generation | $700,995,000 | $30,330,000 |
| Offshore Wind | pending | pending |
| Energy Storage | pending | pending |
| Total: | $22,717,187,000 | $983,463,000 |

*Previously authorized amounts for these programs for years 2016 and forward were reallocated to the Clean Energy Fund, NY-Sun and NY Green Bank with the establishment of the Clean Energy Fund Framework in January 2016.
3. Integrating natural gas benefits
Central Hudson supports the expansion of natural gas for building and home heating and electric generation to complement renewable energy resources as two approaches to reduce overall carbon emissions.

Because natural gas emits approximately 28 percent less carbon dioxide than petroleum-derived fuels and has significantly lower levels of nitrogen oxides (NOx), sulfur dioxide (SO2) and particulate matter, converting businesses and homes to natural gas for heating from fuel oil and propane would lead to large reductions in carbon emission. Natural gas is a complement to intermittent renewables, such as wind and solar, because of the flexible, resilient, quick start capability of natural gas generators.
4. Expanding energy efficiency programs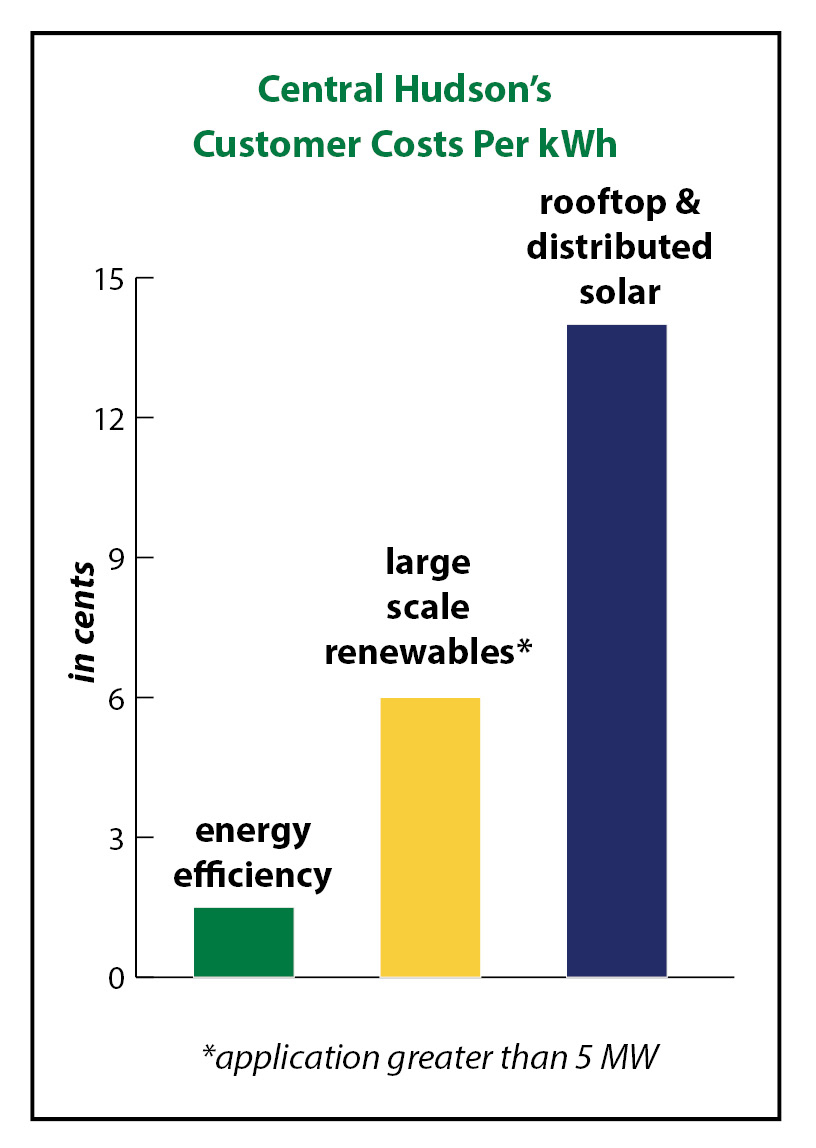 New York state's goal of improving energy efficiency calls for a 26-percent reduction in energy use. Central Hudson's annualized cost of energy efficiency is approximately $0.01-$0.02 per kWh, providing a low cost with high return. Energy efficiency programs have saved residents and businesses more than 50,000 MWh in 2016, 54,000 MWh in 2017, 82,000 MWh in 2018, and 79 MWh in 2019. Maintaining this level of progress will become increasingly challenging as energy efficiency upgrades are completed and the available projects become more costly.







5. Advancing environmentally beneficial electrification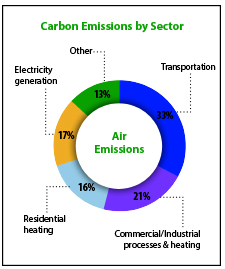 New York's ambitious clean energy goals will require curbing carbon emissions in the two largest emitting sectors — transportation and building heating. The largest source of greenhouse gas emissions in New York state is from gasoline and diesel vehicles, contributing one-third of the total emissions in New York. Without fundamental changes to the transportation sector, New York cannot achieve its clean energy goals. Policy makers should look for opportunities to expand electric vehicle use by encouraging electric vehicle charging infrastructure and considering the ownership of electric vehicle charging infrastructure by the state's utility companies.

The building heating sector accounts for 37 percent of the state's carbon emissions, and offers another significant opportunity for advancing environmentally beneficial electrification. Where natural gas is unavailable, converting buildings and homes that use petroleum products such as fuel oil and propane to air source and ground source heat pumps will allow the state to make meaningful progress towards its carbon emission goals.

To read or download the full report, click here.