H&SB Transmission Project
Central Hudson is planning to rebuild an existing electric transmission line to help meet the energy needs of local communities, address aging infrastructure and to enhance electric service reliability. The transmission line was originally constructed in 1928, and is nearing the end of its useful life. Rebuilding the line is an important investment in the electric infrastructure serving the region. Reconstruction of the line is expected to take place without any electric service interruption to customers.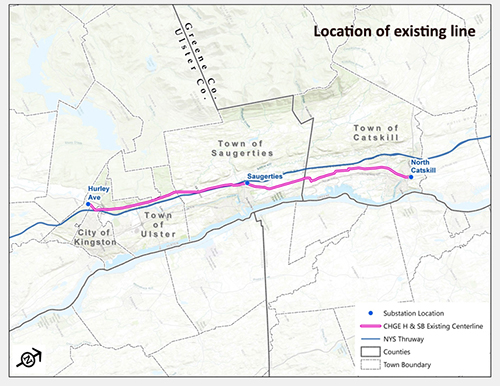 The transmission lines, named "H" and "SB", are located in a 23.6-mile corridor between Kingston in Ulster County to North Catskill in Greene County. The corridor passes through open space, wooded parcels and residential/commercial areas. Plans are to reconstruct the line within the existing right-of-way in nearly all areas, with the exception of a proposed new route for a small portion of the line within a quarry in order to avoid a large wetland. Both the lattice towers and wires will be replaced along the entire route, and some poles may be relocated within the easement, for example to span environmentally sensitive areas. The existing lattice towers will be replaced with a streamlined and slightly taller single pole design made of Corten steel, which features a characteristic brown, wood-like patina to help blend with the landscape. The rebuild design will increase the line's capability from 69,000 volts (69 kV) to 115,000 volts (115 kV), however the line will continue to operate at 69 kV until the increase in voltage is needed.
Central Hudson has engaged the consulting services of VHB environmental engineers to complete necessary environmental reviews for the project and to identify any natural and historic features that should be preserved. Central Hudson is also working with affected municipalities and Ulster and Greene counties, as well at the New York Department of Environmental Conservation, New York Department of Public Service, and New York Department of Agriculture & Markets.
Central Hudson's Application to the New York State Public Service Commission (PSC), inclusive of project maps and numerous exhibits and environmental studies, is available on the PSC website. For information regarding the Article VII permitting process, refer to the PSC publication "The Certification Review Process For Major Electric and Fuel Gas Transmission Facilities" here.
Inquiries to Central Hudson about this project should be directed to Chris Rottkamp, Director of Project Management, at 845-486-5342.
Recent Happenings
As of October 2019, settlement discussions continue to be held with all involved Parties, including the New York State Department of Public Service (DPS), Department of Environmental Conservation (DEC) and the Department of Agriculture & Markets (DAM). In addition, Central Hudson's Environmental Management and Construction Plans ("EM&CP") have been updated to reflect additional details requested by the agencies, as well as design changes made to some very specific locations of the project. Such proposed design changes include using concrete caisson foundations for numerous structures in order to eliminate the use of guy wires; replacing five (5) lattice structures in Catskill that were originally being proposed to remain; redesigning the area in Kingston and Ulster that runs parallel to the proposed Rail Trail, such that the distribution lines will be attached ("underbuilt") to the transmission poles; slight alignment of the line off Hallihans Hill Road adjacent to the Bluestone Wild Forest in order to eliminate a clearance deficiency. Agencies have been reviewing these plans out in the field along with Central Hudson commencing in August 2019. These field reviews are expected to continue at least through December 2019, and likely into 2020.
Project Schedule Milestones
Central Hudson's application submission to the Public Service Commission: Dec. 29, 2017
Article VII permitting activities: 2018-2020
Construction: 2020-2023
Schedule of Public Involvement Activities
Sept. 18, 2017 Open House Informational Session #1 of 2, Saugerties Senior Center, 207 Market Street, Saugerties, NY
Sept. 22, 2017 Open House Informational Session #2 of 2, Ulster Town Hall, 1 Town Hall Drive, Lake Katrine, NY
Aug. 7, 2018: Public Statement Hearing at the Frank Greco Memorial Multi-Purpose Center, 207 Market Street, Saugerties; Information session at 6 p.m., Public Statement Hearing begins at 7 p.m.
Sign up for Project Updates
To sign up to receive an email message when updates about this project are posted here on our website, send an email to H-SB-Rebuild@cenhud.com.
How Interested Persons May Participate as a Party in This Case
Interested persons who wish to participate as parties in the case may file for party status. This may be done through the Public Service Commission's website. From the home page of the Commission's website, a prospective party should click on "Search." Under "Popular Searches" select "Latest Cases/Matters started." In the "Search" section of the Web page, enter "Central Hudson" in the keyword search box and press "Search" on the right side of the page. Then, in the "Search Results" at the bottom of the page, click on the Case/Matter number on the left side. This will bring the user to the main Document and Matter Management ("DMM") page for this case. On that page, the prospective party should click the button at the upper right labeled "Request for Party Status" to see a Web page with instructions for the procedures to follow to become a party. The timeframe for filing a request to be a party to this case is throughout the pendency of the case.